Cookie preferences
This website uses cookies, which are necessary for the technical operation of the website and are always set. Other cookies, which increase the usability of this website, serve for direct advertising or simplify interaction with other websites and social networks, will only be used with your consent.
These cookies are necessary for the basic functions of the shop.
Customer-specific caching
These cookies are used to make the shopping experience even more appealing, for example for the recognition of the visitor.
TurboCAD 2D 2018/2019
Prices incl. VAT plus shipping costs
Item number:

241820374

Manufacturer No:

TC-82471-LIC

Runtime:

Lifetime

Laguage(s):

German

Countryzone(s):

Worldwide
Data carrier to your software
Easy, precise design in 2D! TurboCAD 2D is an easy-to-use 2D CAD precision...
more
Product information "TurboCAD 2D 2018/2019"
Easy, precise design in 2D!
TurboCAD 2D is an easy-to-use 2D CAD precision software. Regardless of their level of expertise, users can become productive immediately with the setup wizard, first-step guide and comprehensive context-sensitive help.
Floor plans, technical illustrations and more can be quickly drawn, edited, dimensioned and annotated. Easily save as PDF file, exchange files with AutoCAD and more.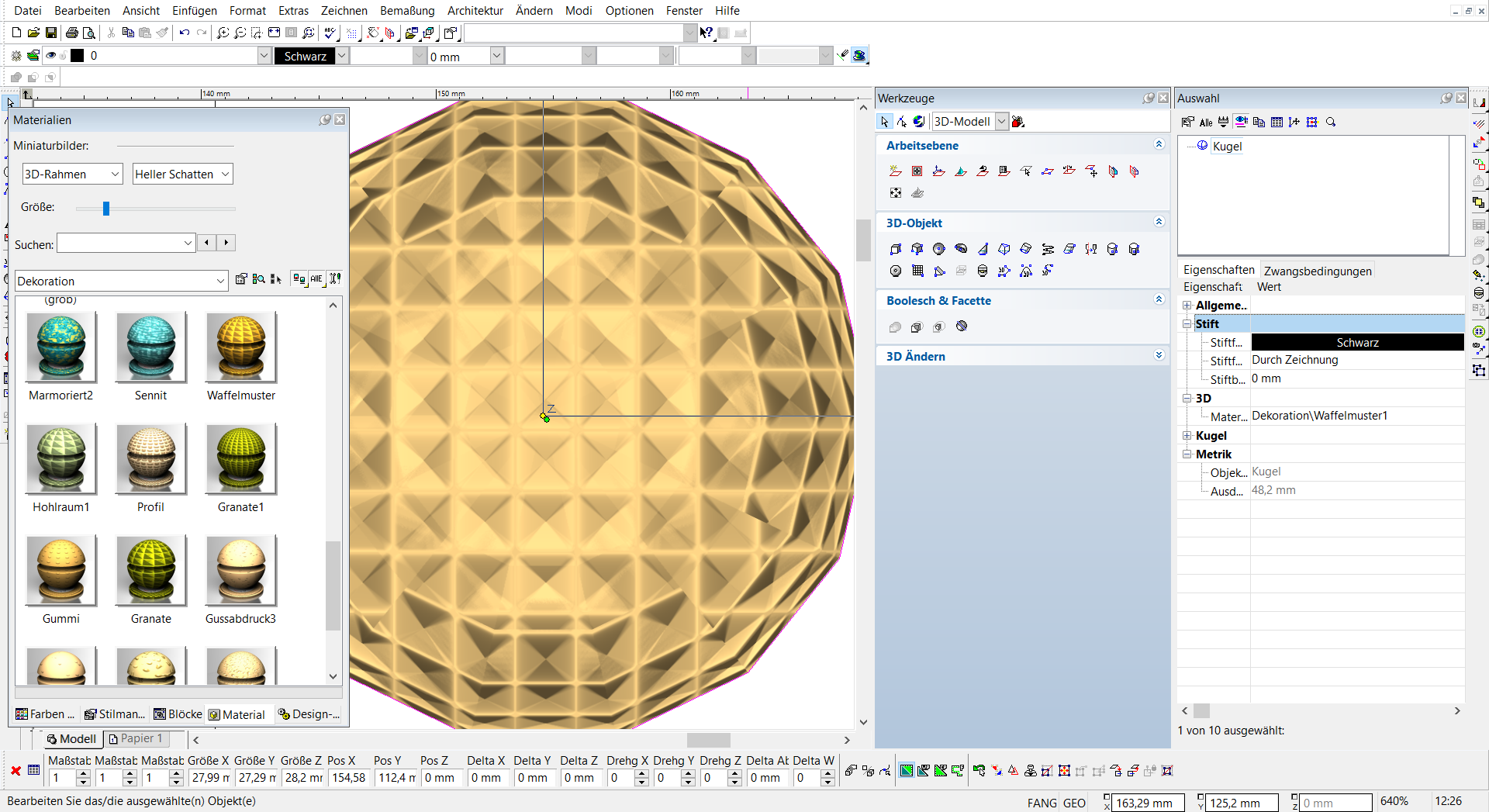 Easy to learn and user-friendly
Regardless of your level of expertise, you can get up and running immediately with the setup wizard, first-step guide and comprehensive help. Adjust your menu settings to beginner, advanced or professional modes for fast results. The range of super-selection modes ensures more precise control of object selection and makes it easy to make changes to drawings. New file management options improve workflow.
Complete 2D design

TurboCAD 2D has the right tool for every requirement. Quickly access hundreds of drawing, editing, dimensioning, and annotation tools. Use snap modes and drawing aids to speed up the creation of your designs.
CAD & Graphics Compatibility

TurboCAD 2D makes it easy to import existing designs and exchange files with other users. Import and export AutoCAD® DWG/DXF files (now compatible up to AutoCAD 2017), save your designs in PDF format and more! Supports over 20 of the most popular industry standard file formats.
Proven CAD solution for over 20 years

TurboCAD is a brand you can trust. With over 2 million versions sold worldwide, TurboCAD has been the most versatile and user-friendly CAD application for many years.
Flexible user interface
In beginner mode, tools with detailed descriptions can be displayed. If you are familiar with TurboCAD and want to enlarge the drawing area on the screen, you can switch to advanced or expert mode.
Setup Assistant
By answering simple questions, you can create the optimal drawing area (character size, orientation, units of measure, print scale, and viewport) for your needs.
Complete set of 2D design tools
TurboCAD 2D includes a wide range of lines, arcs, curves and spline tools so that you have the right tool for every task. By using TurboCAD's snap modes, editing tools and drawing aids, you can quickly realize your designs without limitations.
Arc, Bézier curve, circle, ellipse, auxiliary line, double line, irregular polygon, line, multi line, parallel line, vertical line, point, polygon, polyline
Point marking tool
Chamfering/rounding, alignment
Inserting images, text, objects, fill styles
Convert: Move, rotate, scale
Audit note
2 types of spline curves
Copy matrix for the design of repetitive objects
Boolean union, difference and intersection
Trimming and extending multiple objects
Stretching, dividing, connecting, breaking, extending, joining 2 lines
2D queries: angle, area, point coordinates, distance
Wall
Annotations
Dimensioning and text functions are essential for every CAD drawing. TurboCAD 2D contains:
Intelligent, Fast and Baseline tool types for automatic dimensioning.
Associative dimensions - free movement, rotation or scaling of associated objects. The dimensioning keeps its position relative to the object. The dimension text is automatically updated when changes are made.
Precise dimensioning with accuracy to 10 decimal places.
Available formats: Architectural, Fracture, Technical, Decimal, Land Survey.
Multitext formatting and scaling options.
Linear and angular dimensions allow you to specify a fixed length for extension lines.
Units of measurement can be defined globally by drawing level.
Selection point & path hatching, bitmap fills and transparency
TurboCAD offers a transparency option for hatch patterns and gradient fills. Custom bitmaps, such as your company logo, can also be used. This allows construction or assembly details to be presented much more clearly and precisely.
Editing with handles
Save time and draw more accurately and faster. TurboCAD provides handles for scaling, rotating, moving and aligning objects.
Super selection modes
Super selection modes provide more precise control over object selection and drawings can be edited faster and easier. The "Use Previous Selection" function allows the user to quickly jump to and restore the previous selection where there was a change.
The rectangular drag mode is a bidirectional selection mode.
Window polygon drag mode only selects objects that are completely inside a closed polygon.
Crossing polygon drag mode allows you to select objects that are completely inside or cross a closed polygon.
Fence drag mode only selects objects that are touched by the open polygon or "fence" created in this mode.
Local menu
Right-click to access recently used tools and input values or to change or reset reference points. When a TurboCAD tool is active, the local menu also provides a context-based toolbar with similar tools and functions.
PDF version
You can save your drawing in PDF format for easy sharing with others. You can also export paper areas, adjust fonts and define the height and width of the paper.
CAD and graphic compatibility
The file exchange with other users and between other programs works very easily. TurboCAD supports the most popular industry-standard file formats, including the latest DWG/DXF filters for working with AutoCAD® 2017.
User-friendliness & user interface
NEW! Ribbon:
TurboCAD 2018 / 2019 offers a choice of user interfaces. New is the Ribbon interface, which is similar to the user interface used in Microsoft Word and the latest AutoCAD versions. For users of older versions the classic user interface type is still available.
TurboCAD can be customized according to individual preferences, so that every user can work in the familiar environment. Various topics are available for the user interface. When the program starts, a pop-up dialog box appears in which the preferred environment can be easily set.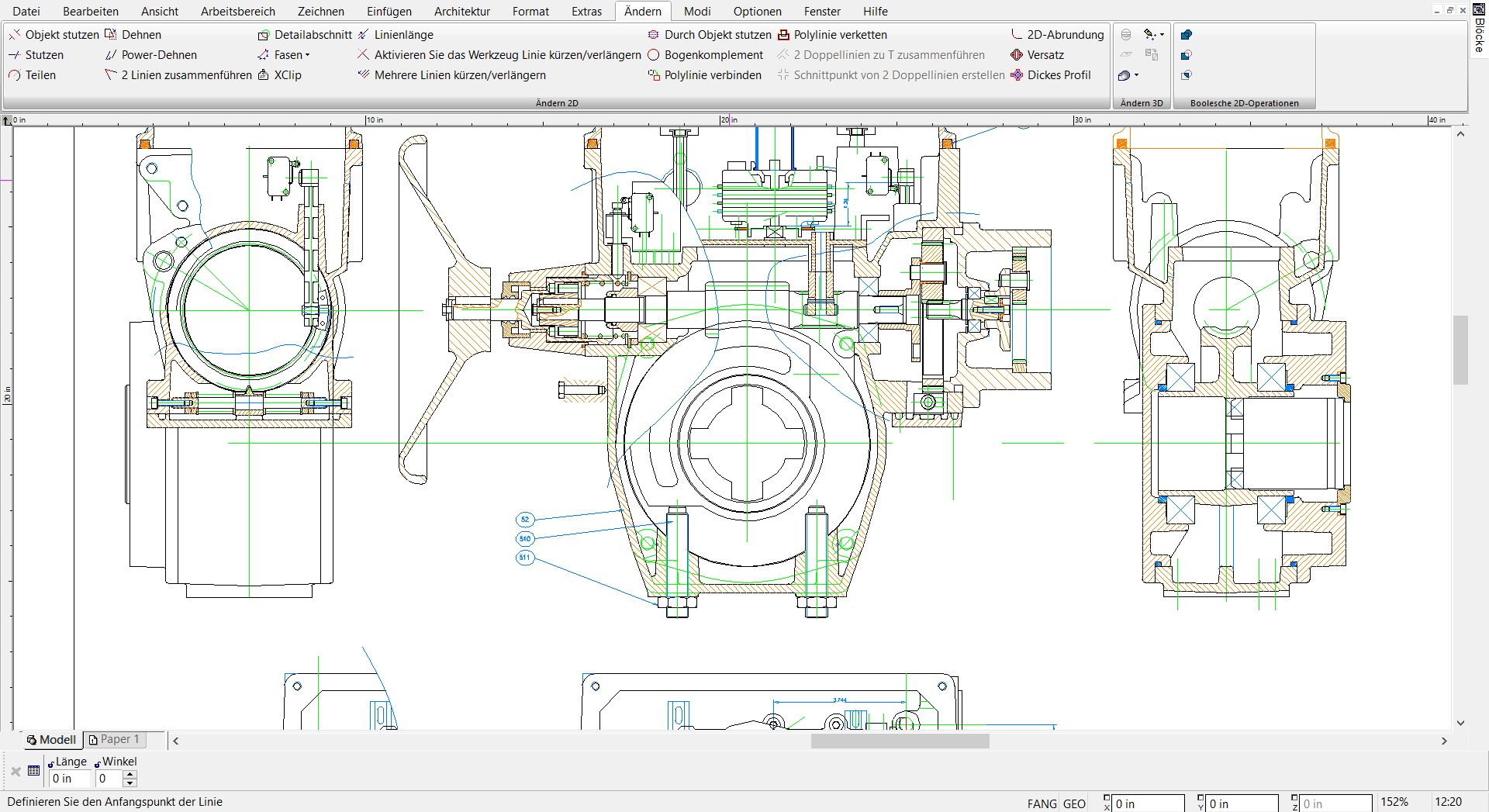 NEW! Keyboard shortcuts
2, 3, 4 or 5 keyboard commands
This brilliant new feature is designed to revolutionize the way you use TurboCAD! Users can now combine keyboard commands from two or more keystrokes to quickly execute any TurboCAD command. The keystrokes can be executed in sequence, no key combination is required.
The keyboard commands are first triggered by pressing and releasing the Ctrl key. Afterwards, you press a series of keys to call up a specific command. This allows the user to operate the keyboard with the left hand and the mouse with the right hand, which greatly increases productivity.

NEW! Display of user-defined key combinations in the context menu


NEW! Isolate and hide objects
This great new feature allows the user to edit complex drawings more easily. Selected objects can be isolated independently from layers or groups. In this way, objects to be edited can be brought into focus, while more complicated or overlapping objects can be avoided.
In addition to isolating certain objects, it is also possible to hide additional objects so that only those objects that are important for the editing process are displayed. When the "Fade in" option is selected, the drawing returns to its original state.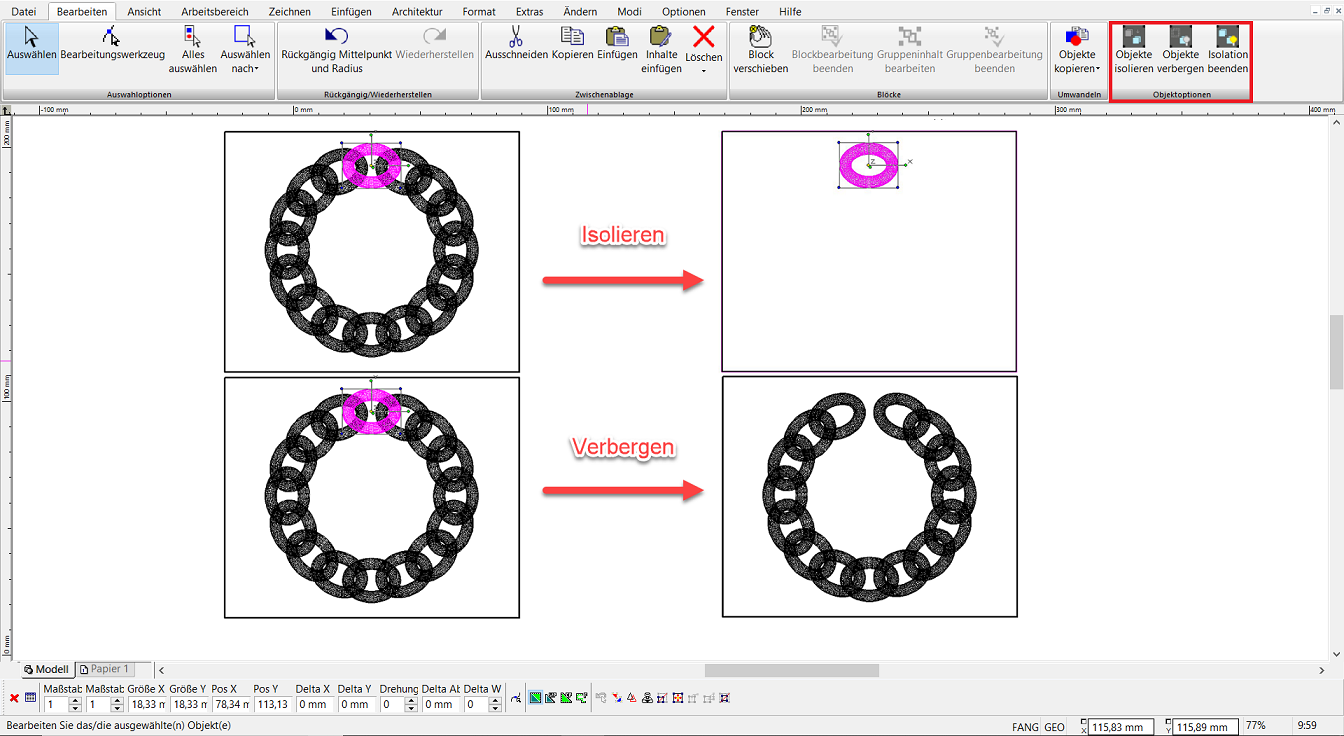 NEW!Search option for finding user interface functions
This excellent new feature allows you to quickly find specific commands within the Customize dialog box. In this way, commands or their key combinations can be found quickly. The user interface can be customized by dragging a function icon to a toolbar or by creating a custom keyboard command. By entering a word in the search field, the matching commands can be found.
Buttons next to the input field highlight the previous or next matching element. The search history is stored in a drop-down list, which speeds up a subsequent search for the same entry. A search combo box is displayed for materials, luminances, environments and advanced rendering styles.
Design and editing in 2D
NEW! Catch between two points
This snap mode allows you to snap the center point between two successively selected points. This eliminates the need to create guides/circles to snap the center between two points.

NEW! Cutting through object
This interesting new command allows you to trim multiple objects using a closed 2D profile that works like a cookie cutter. All objects within the defined profile are trimmed and removed. This eliminates the need to select multiple objects for trimming using a cut edge.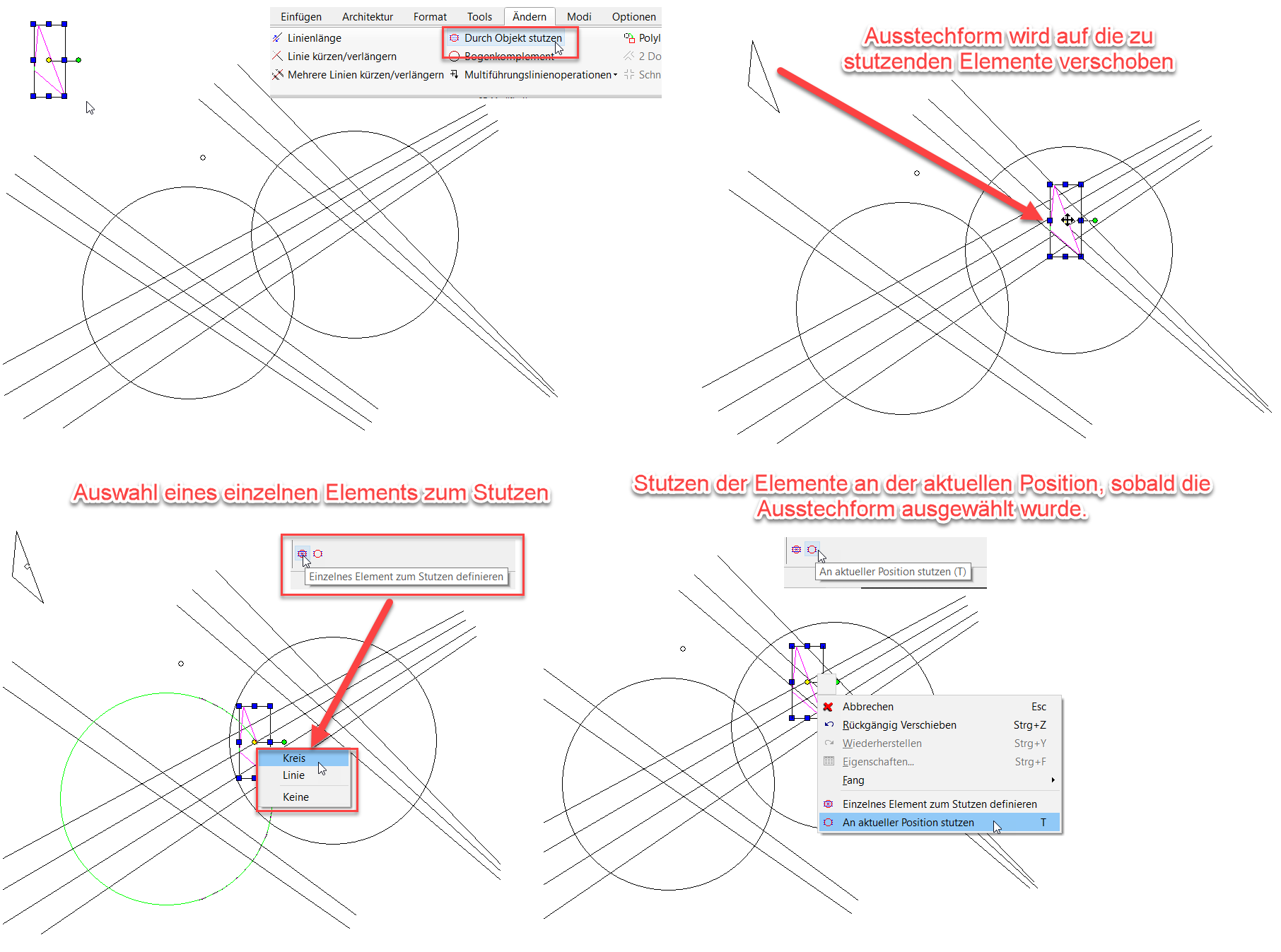 NEW!Thick profile
This tool with options for width and corner type can be applied to groups of objects consisting of lines/polylines/circles/arcs that are on the same plane. The profiles are automatically thickened according to the defined width. This creates a series of polylines, connected polylines (these two options are available for TurboCAD versions without ACIS), a range or series of ACIS sheet metal elements (TurboCAD Pro only).


NEW!Levelling
This tool smoothes 3D polylines and 3D spline curves so that they lie flat on the work plane. This command sets the Z values of the vertexes of these element types to zero so that they can be used in a 2D environment.


NEW! Improved selection point hatching
The selection point hatching tool now overlooks minor design errors. This allows you to define an error margin for the distance to automatically fill the gap if a border line is not 100% closed. This margin can be adjusted using the "Gap" value in the control bar. Since 100% accuracy with regard to closed curves or polylines is now optional, hatching processes are considerably accelerated.


Other
NEW! Test system
The Selection Information palette now contains a check function. The test system enables you to highlight 'bad' objects in the Selection Information palette, switch test conditions on/off and change their parameters. You can also create inspection reports for one or more objects, filter 'bad' objects in the Selection Information palette and forward notifications of 'bad' objects to the Event Viewer.


NEW! Property for expansion quantity
The expansion size parameter has been added to the properties of the Selection Information palette. The expansion size parameter works with groups, blocks and inserts. The expansion size property can be used to select objects based on size values.
Objects within any size range can be selected. This function offers additional flexibility and can be used in many ways, e.g. to analyze possibly "wrong" objects.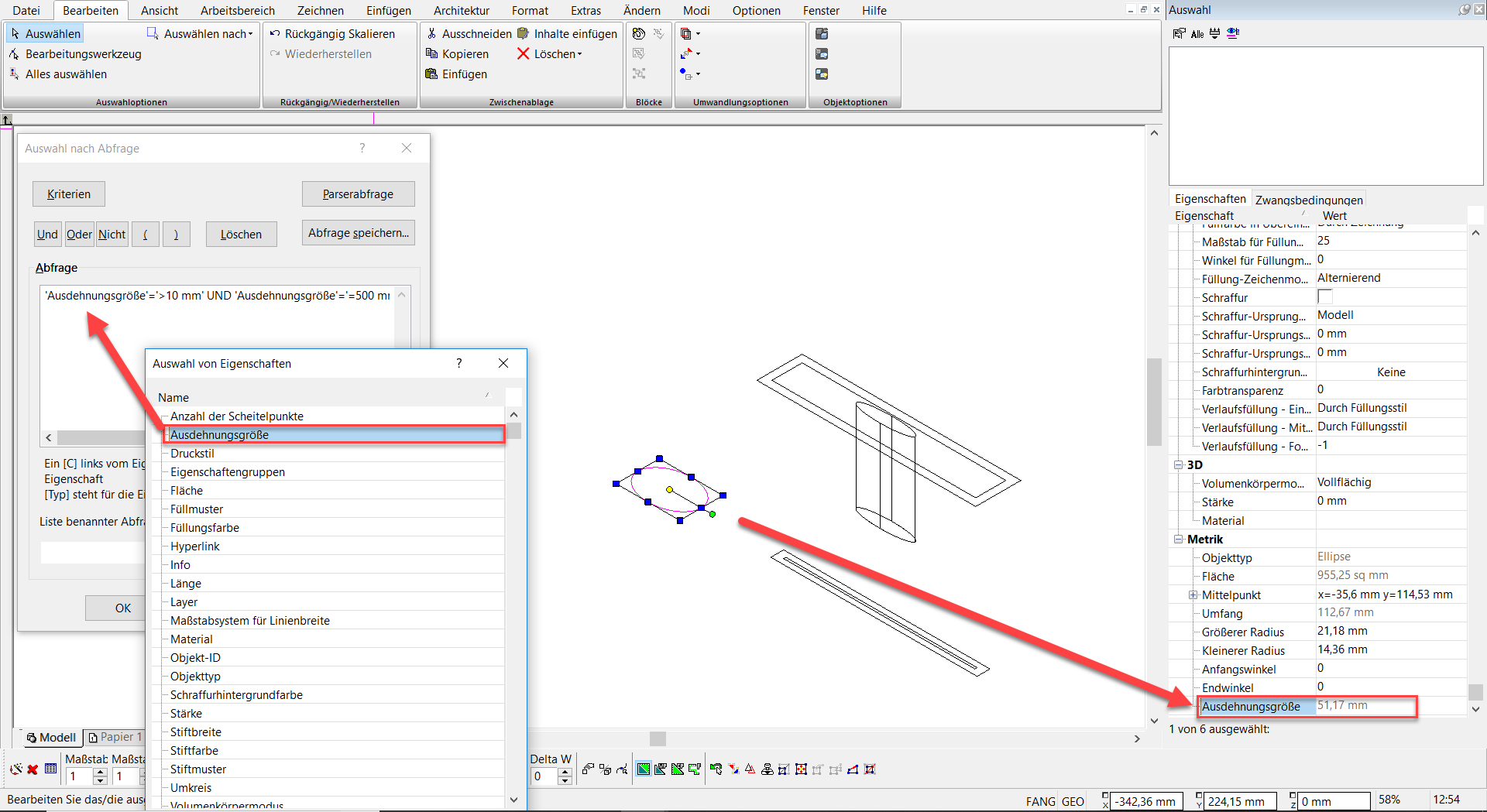 NEW! Zoom diagnostic message
A new message was introduced for zoom operations. It appears when the user tries to enlarge or reduce an area outside the maximum allowable zoom factor.


NEW! OK and Cancel buttons in the Insert Break dialog box
The new OK and Cancel buttons in the Insert Break dialog box of the Text Editor provide better usability.


NEW! Select by object type
TurboCAD now recognizes two separate object types: Circle and ellipse. The same applies to circular and elliptical arcs. Previous versions could not select circles and ellipses separately.
File support / compatibility
File exchange with AutoCAD® 2018: Updated DWG and DXF import/export filters.
| | |
| --- | --- |
| Version | 2018 |
| Operating system | Windows 7, Windows 8, Windows 10 |
TurboCAD is delivered as a 64-bit version to fully utilize the available computer memory when loading, processing and rendering CAD files. (the 32-bit version is still available if your hardware is dependent on it)
Minimum requirements for 64-bit systems:
Microsoft Windows® 10 64-bit, 8* 64-bit, 7 (64-bit)
8 GB RAM.
Minimum requirements for 32-bit systems:
Microsoft Windows® 10, 8*, 7
4 GB OF RAM.
* TurboCAD is designed for desktop PCs or laptops that meet the specified system requirements. Windows RT technology for use on tablets is not supported.
How and when do I get my purchased product?
Digital products, product keys and access to the download center will be made available to you by email immediately after your purchase - unless a data medium has been ordered.
What payment options are available to me?
PayPal, Amazon Pay, Instant bank transfer, Credit card, Apple Pay, Prepayment, Purchase on invoice
What guarantees do I have at Blitzhandel24?
Blitzhandel24 is an EHI, TrustedShops and CHIP certified online brand shop. Blitzhandel24 also offers its customers permanent support, as well as support for the purchased product. If a product has not been used / redeemed, our customers can benefit from the money-back guarantee.
Related links to "TurboCAD 2D 2018/2019"
How do our prices come about ?
more
How do our prices come about ?
The basic principle of the software trade is the art of omission.
by quantity bundling
Opening of delivery and storage fees through virtual merchandise management.
Direct imports
Long-term relationship with distributors.
Low profit margin, main priority at Blitzhandel24 is the valuation as well as the growth of the customer base.
A central and lean administration.
Quantity purchases from authorized suppliers/distributors.
Omission of high-priced marketing investments, as more value is placed on regular customers in the sense of "customers recommend customers"
we realize cost advantages, which we pass on to our customers via favourable prices.
Is the quality therefore worse?
We promise our customers excellent quality. The prices do not affect the quality in any way, our customers get tested verified products. In addition you have with Blitzhandel24 a security up to 20,000€ over Trusted Shops as well as a legally safe Shop, by EHI Prüfsiegel.