Products from RarLab

No results were found for the filtering!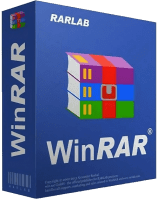 RarLab WinRAR 6.11
WinRAR is a program for compressing and decompressing data. WinRAR is the Windows version of RAR Archiver, a powerful compression utility and archive manager. RAR files typically compress data up to 30 percent more efficiently than ZIP...
Products from RarLab

Das Packprogramm WinRAR ist leistungsfähig und hat viele integrierte zusätzliche Funktionen, die Ihnen bei der Organisation Ihrer komprimierten Archive behilflich sind. WinRAR setzt sich von der Vielzahl an verschiedenen Kompressionsprogrammen ab, wenn es ums Packen geht. Durch die konsequente Erstellung von kleineren Archiven ist WinRAR oftmals schneller als die Konkurrenz. Dadurch sparen Sie nicht nur Speicherplatz, sondern auch Kosten und wertvolle Arbeitszeit. WinRAR unterstützt neben dem RAR Format auch alle gängigen Komprimierungsformate wie ZIP, CAB, LZH, TAR und 7-Zip.