Cookie preferences
This website uses cookies, which are necessary for the technical operation of the website and are always set. Other cookies, which increase the usability of this website, serve for direct advertising or simplify interaction with other websites and social networks, will only be used with your consent.
These cookies are necessary for the basic functions of the shop.
Customer-specific caching
These cookies are used to make the shopping experience even more appealing, for example for the recognition of the visitor.
Ashampoo UnInstaller 9 Download
£19.27 *
£36.79 *
(47.62% Saved)
Prices incl. VAT plus shipping costs
Item number:

241820947

Manufacturer No:

4250949206148

Runtime:

Lifetime

Laguage(s):

All languages

Countryzone(s):

Worldwide
Data carrier to your software
Zawsze bez ryzyka poprzez całkowitą deinstalację! Z Ashampoo UnInstaller 9 możesz...
more
Product information "Ashampoo UnInstaller 9 Download"

Zawsze bez ryzyka poprzez całkowitą deinstalację!
Z Ashampoo UnInstaller 9 możesz instalować, testować i odinstalowywać programy bez obaw. Jednocześnie zawsze masz pełną kontrolę nad tym, co może pozostać na Twoim komputerze! Program kompleksowo monitoruje każdą instalację tak, aby można ją było łatwo i bez pozostawiania jakichkolwiek pozostałości usunąć. Nawet programy bez wyrębu są usuwane przez głębokie czyszczenie bez pozostałości! UnInstaller 9 zmiata niepotrzebne oprogramowanie, rozszerzenia przeglądarki i paski narzędzi całkowicie z dysku twardego za pomocą jednego kliknięcia myszką! A dzięki innowacyjnej technologii migawkowej możesz zobaczyć każdą zmianę, jaka zaszła w Twoim komputerze - błyskawicznie i przejrzyście ułożoną.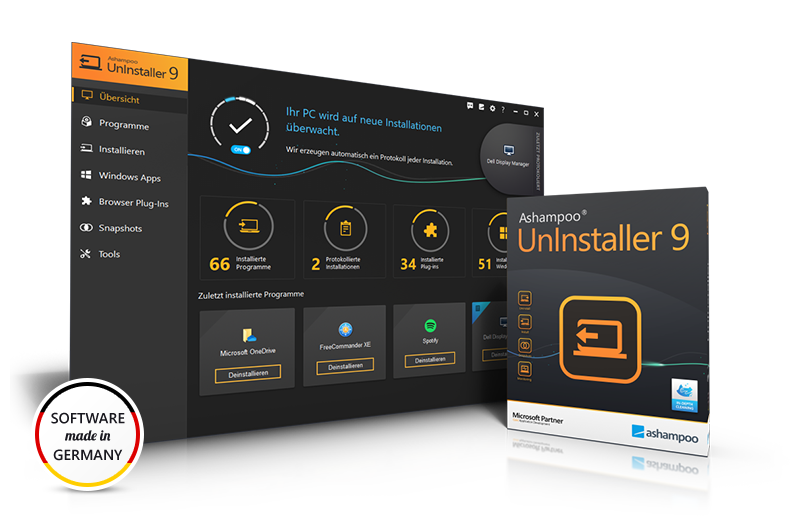 Odinstalować programy bez pozostawiania śladów
Windows usuwa tylko to, na co pozwalają same zainstalowane programy - a to nie wystarczy! Często liczne wpisy w rejestrze, błędne alokacje lub pliki pozostające w systemie pozostają na dysku twardym. Resztki często powodują błędy, plątaninę dysku twardego i spowalniają cały komputer. Dzięki zaawansowanym mechanizmom wyszukiwania i czyszczenia, program znajduje znacznie więcej niż tylko Windows. Ashampoo UnInstaller 9 całkowicie usuwa niechciane oprogramowanie aż do ostatniego bajtu!
Odinstaluj oprogramowanie jak zawodowiec!
Nawet jako nowicjusz nie będziesz miał problemu z rozpoczęciem pracy z Ashampoo UnInstaller 9. Dzięki nowo zaprojektowanemu interfejsowi użytkownika wszystkie funkcje są dostępne za pomocą jednego kliknięcia myszką, a nawet skomplikowane technicznie procesy są zrozumiałe. Odinstaluj dowolny program wygodnie i nie pozostawiając niczego za sobą. Niech instalacje automatyczne je wykryją i zarejestrują. Uzyskaj ciekawy wgląd w to, co dzieje się na Twoim komputerze i wygodnie usuń to, co nie należy do niego. UnInstaller dla początkujących i profesjonalistów!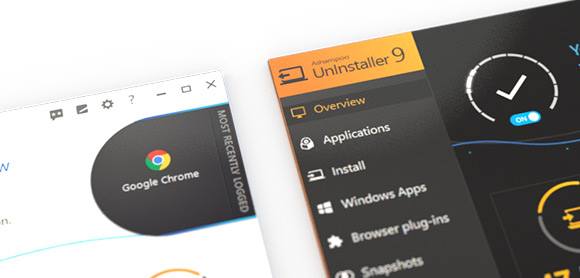 Bezlitosne wobec niechcianych programów
Ashampoo UnInstaller 9 usuwa programy, które stały się zbędne, nie spełniają wymagań - ale oczywiście również niechciane programy, które zostały ukryte przed Tobą! Zwłaszcza instalatorzy z witryn pobierania często stosują programy typu "piggyback", które nie są pożądane i są częściowo klasyfikowane jako spyware i malware. Ashampoo UnInstaller 9 wykrywa te programy nawet jeśli są one ukryte w skomplikowanych instalatorach i w razie potrzeby usuwa je z dysku twardego!
Porównywanie migawek - o co chodzi?
Wyobraź sobie, że Ashampoo UnInstaller 9 byłby administratorem dla Twojego komputera. Z każdym zdjęciem program tworzy kompletną inwentaryzację Twojego systemu. Lista ta zawiera wszystkie dane, a także ustawienia rejestru w systemie Windows. Jeśli pliki są dodawane (np. przez instalację), można utworzyć kolejną listę inwentaryzacyjną. Podczas porównywania znajdują się wszystkie różnice, każdy nowy lub usunięty plik, każdy zmieniony wpis w rejestrze. W UnInstaller 9 znajdziesz teraz zupełnie nowy snapshot kreator, który sprawia, że tworzenie i porównywanie jest bardzo łatwe!

Cztery metody kasowania w celu całkowitej deinstalacji
Ashampoo UnInstaller 9 wykorzystuje cztery techniki na raz, aby zapewnić, że żaden niepożądany bajt nie pozostanie w Twoim systemie. Najbardziej kompleksowy jest protokół, który UnInstaller 9 tworzy podczas instalacji każdego programu. Zawiera on listę wszystkich plików i wartości rejestrów, które powoduje dana instalacja. Ponadto program wykorzystuje procedurę dezinstalacji oprogramowania, które ma zostać usunięte. Jeśli istnieje profil dla oprogramowania, jest on również przetwarzany. Wreszcie, głębokie czyszczenie szuka ostatnich pozostałości, które mogą jeszcze znajdować się na dysku twardym! Z nową wersją, nawet po restarcie, będzie sprawdzać ostatnie szczątki!
Usuń oprogramowanie z głębokim czyszczeniem
Ashampoo UnInstaller 9 całkowicie rejestruje instalację każdego programu i w ten sposób gwarantuje dezinstalację bez pozostałości. Nawet programy, które są w inny sposób ukryte przed Tobą, są bezpiecznie rejestrowane. Ale nawet w przypadku programów, które nie są rejestrowane, inteligentny algorytm kasowania zapewnia skuteczną deinstalację. Dzięki głębokiemu czyszczeniu, niepotrzebne wpisy i pliki usuniętego oprogramowania, które w przeciwnym razie pozostałyby w systemie, są usuwane z dysku twardego.
Twój strażnik, który monitoruje wszystkie instalacje
Ashampoo UnInstaller 9's Guard zawsze ma oko na twój system i używa prawie żadnych wymiernych zasobów. Nawet jeśli usuniesz program za pomocą zwykłego programu odinstalowującego Windows, automatycznie wyszuka on kolejne pliki pozostające w systemie. Często nawet początek i koniec instalacji jest wykrywany automatycznie, dzięki czemu nie ma potrzeby samodzielnej interwencji! Z nową wersją, uczyniliśmy Straż jeszcze trudniejszą. Cokolwiek robi twój system, Strażnik ma wszystko na widoku!

Niszczenie danych wrażliwych
Wiele plików usuwanych podczas deinstalacji zawiera dane wrażliwe. To także Twoje profile użytkowników, metody płatności lub hasła powinny zostać usunięte. Ale sam Windows może to zrobić tylko w niewystarczającym stopniu! Aby maksymalnie chronić Państwa prywatność, pliki te są podczas kasowania niszczone, tak że nie można ich oglądać nawet przy użyciu specjalnego oprogramowania. Najlepsze: Ashampoo UnInstaller 9 działa zgodnie z wojskowymi standardami bezpieczeństwa!

Czyste usuwanie programów z profilami nawet bez protokołu
Do tej pory trudno było odinstalować bez pozostawienia jakichkolwiek pozostałości bez instalacji z logami. Gdzie podczas instalacji były rozprowadzane pliki i klucze rejestru w systemie? Ashampoo UnInstaller 9 posiada profile instalacyjne wielu popularnych aplikacji i może je usunąć bez pozostawiania śladu, nawet jeśli instalacja nie była zalogowana. Nawet szczególnie uporczywe układy nie mają szans. Wraz z innowacyjnym czyszczeniem głębokim, instalacje znikają do ostatniego bajtu!

Surfuj po Internecie szybko i bezpiecznie
Niebezpieczne, niechciane i złośliwe wtyczki działają w milionach przeglądarek. Czy to w przebraniu irytującego paska narzędzi, czy też pozornie pomocnego pluginu - Ashampoo UnInstaller 9 znajduje je wszystkie! Wykrywaj rozszerzenia, które często nie są nawet wyświetlane przez przeglądarki. Na czystej liście można znaleźć wszystkie rozszerzenia, zobaczyć ich oceny i można je łatwo odinstalować.
Odinstalowanie aplikacji Windows Apps
To twój komputer, dlaczego nie odzyskasz pełnej kontroli nad nim? Przy każdej instalacji systemu Windows Microsoft rozprowadza różne aplikacje i ustawia je jako domyślne. Od teraz możesz także odinstalować te niechciane aplikacje. Nawet aplikacje, których Windows w ogóle nie pokazuje, mogą być bez problemu usunięte z Twojego komputera!
Razem są niepokonani
Z Ashampoo UnInstaller 9 masz doskonałą kontrolę nad wszystkimi instalacjami w Twoim systemie. Ale kto optymalizuje wydajność Twojego komputera lub zapobiega intruzom z Internetu? Razem z Ashampoo WinOptimizer 17 i Ashampoo Anti-Virus masz optymalny zespół u boku! Pozwól swojemu systemowi przyspieszyć, pozbyć się śmieci z danych i surfować po Internecie bez obaw. Wykorzystaj potężne trio do stworzenia smukłego, szybkiego i bezpiecznego komputera!
Wymagania systemowe:
System operacyjny:
Windows® 10, Windows® 8, Windows® 7
Komputer:
Dowolny komputer, który obsługuje wymienione powyżej systemy operacyjne.
Różne:
Do aktywacji programu wymagane jest połączenie z Internetem. Licencja programu jest sprawdzana w regularnych odstępach czasu.
Do korzystania z programu wymagane są uprawnienia administracyjne w systemie.
Inne języki do pobrania
Pobierz dodatkowe lub poprawione języki, które nie są obecnie częścią instalacji programu.

Uwaga: Zlokalizuj folder "lang" lub "Translation" w folderze instalacyjnym odpowiedniego programu i zapisz tam żądany plik językowy. W razie potrzeby należy ponownie uruchomić program, aby móc wybrać nowy język w ustawieniach.

Dziękuję bardzo wszystkim, którzy wspierają nas swoimi tłumaczeniami!
| | | | |
| --- | --- | --- | --- |
| Język | Tłumacz | Dodano | Pobierz |
| Norweski | Bjørn N. Colargol | 05.11.2019 | Pobierz |
| Bułgarski | Chavdar Bozadzhiev | 23.12.2019 | Pobierz |
Dzięki naszym tłumaczom
Angielski
Niemiecki
Holenderski (Guy Raedersdorf)
Francuz (Guy Raedersdorf)
Węgierski (László Koncz)
Rosyjski (Сергей Царёв)
Polski (Artur Krupa)
Włoski (Severino Grandi)
Portugalczyk (Manuela Silva)
Hiszpan (Miguel Blasco)
Szwedzki (Olle Ohlsson)
Turecki (Çağdaş Tatar)
Słoweński (Jadran)
Czeski (Libor Divis)
ChineseSimplified (Smilefly )
British English (Chris Brooker)
Serbowie (Ilija Komljenović)
Portugalczyk (Brazylijczyk) (Josè Carlos Taveira)
ChineseTraditional (Alan)
Grek (Aldi Duzha)
Catalan (Joan Queralt)
Słowak (Milan Slovák)
Fiński (Veikko Muurikainen)
Serbowie (Ilija Komljenović)
Hiszpański (Argentyna) (Angel De Giorgi)
Norweski Nynorsk (Olai Otterå)

Nie możesz znaleźć produktu Ashampoo w swoim języku?

Wolałbyś pracować z produktem Ashampoo w swoim języku?

Następnie użyj Ashampoo® Translation Studio do utworzenia i użycia własnego pliku językowego.

Czy podobało Ci się tłumaczenie i chciałbyś podzielić się swoją pracą z rodakami? Następnie wyślij swój plik językowy pocztą elektroniczną na adres [email protected] Po krótkim sprawdzeniu, Twoje tłumaczenie zostanie zintegrowane z odpowiednią konfiguracją programu i tym samym oferowane do pobrania na całym świecie.




Konfiguracja instalacji Ashampoo® Translation Studio

Konfiguracja zawiera edytor języka i instrukcje, jak szybko i łatwo przetłumaczyć produkt Ashampoo na swój język.
http://www.ashampoo.com/ashampoo_translation_studio.exe
How and when do I get my purchased product?
Digital products, product keys and access to the download center will be made available to you by email immediately after your purchase - unless a data medium has been ordered.
What payment options are available to me?
PayPal, Amazon Pay, Instant bank transfer, Credit card, Apple Pay, Prepayment, Purchase on invoice
What guarantees do I have at Blitzhandel24?
Blitzhandel24 is an EHI, TrustedShops and CHIP certified online brand shop. Blitzhandel24 also offers its customers permanent support, as well as support for the purchased product. If a product has not been used / redeemed, our customers can benefit from the money-back guarantee.
Related links to "Ashampoo UnInstaller 9 Download"
How do our prices come about ?
more
How do our prices come about ?
The basic principle of the software trade is the art of omission.
by quantity bundling
Opening of delivery and storage fees through virtual merchandise management.
Direct imports
Long-term relationship with distributors.
Low profit margin, main priority at Blitzhandel24 is the valuation as well as the growth of the customer base.
A central and lean administration.
Quantity purchases from authorized suppliers/distributors.
Omission of high-priced marketing investments, as more value is placed on regular customers in the sense of "customers recommend customers"
we realize cost advantages, which we pass on to our customers via favourable prices.
Is the quality therefore worse?
We promise our customers excellent quality. The prices do not affect the quality in any way, our customers get tested verified products. In addition you have with Blitzhandel24 a security up to 20,000€ over Trusted Shops as well as a legally safe Shop, by EHI Prüfsiegel.